Home
» » 20 Virtual Desktop!
20 Virtual Desktop!
13 June 2008
Posted by whiztech

under

Uncategorized
VirtuaWin is a great freeware and open source software that will let you to create and manage virtual desktops (or workspaces). VirtuaWin is simple and easy to use.
By default, you will get 4 workspaces. VirtuaWin will let you to create up to 20 workspaces. You can found the setting in VirtuaWin setup dialog.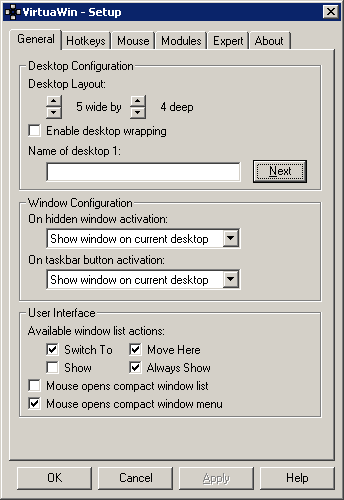 For example, 5×4 virtual desktops will give you the desktop layout like this: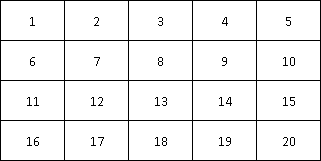 To move between the workspaces, the default hotkey is Windows+Arrow. For example, if you are at workspace 1, pressing Windows+Right will move you to workspace 2, and pressing Windows+Down will move you to workspace 7.
Clicking on the VirtuaWin icon in the system tray will give you the menu of your running program so you can show your program without the need to browse through each workspaces.

VirtuaWin uses a very little memory (5MB). For your convenience, the workspace number is displayed in the tray icon (if you use more than 4 workspace, if not, VirtuaWin will show the workspace position). You can download and change VirtuaWin icon if you want. Modules also available if you want to add extra functions to VirtuaWin. If you are looking for virtual desktop manager to increase your productivity, VirtuaWin might suitable for you.
[Download: VirtuaWin]
Tags: Download, Freeware, Open Source, VirtuaWin