Monthly Archives:
February 2009
Salam and hello all… First of all, I would like to appologize for the recent lack of updates. I've been to Kuala Lumpur for almost 2 weeks. So, have you ever wonder on how to easily download video from YouTube? You came across a funny video and you want to download it so you can watch it again without having to visit YouTube. In my previous post, I've shown you on how to download streaming media from any websites using Grab++. YouTube Downloader however is simpler than Grab++.
YouTube Downloader is an extremely easy-to-use tool that enables you to easily download video from YouTube. To use YouTube Downloader, copy and paste the YouTube video link (1) in YouTube Downloader and click OK (2). A download dialog will appear and you can choose the location where you want to save the downloaded video.
ImgBurn is a lightweight CD/DVD/HD DVD/Blu-ray burning application. Currently ImgBurn is my favourite CD/DVD burning application.
The main reason behind the safe burning with ImgBurn is its buffer size. ImgBurn offers a maximum of 512MB buffer size for burning. Compared with Nero, you can only set the buffer size up to 80MB only and InfraRecorder allows you to set the buffer size up to maximum of 128MB. Buffers allows you to store the data that you want to burn in your RAM before the dara is being burned, which is faster than accessing the data from hard drive. Larger data allows you to store more data in RAM, thus reducing the buffer underrun. Usually, buffer underrun usually occor if the buffer is being filled at slower speed than the speed of data that being written to the disc. Heavy CPU or memory load from other concurrent tasks can easily exhaust the capacity of a small buffer, so larger buffer usually can prevent this from happened.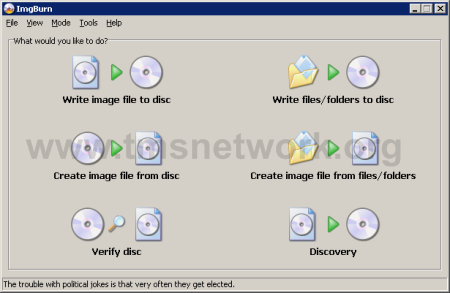 Setting Up ImgBurn to use 512MB Buffer
1. Run ImgBurn. Go to Tools > Settings.
2. Navigates to I/O tab (1).

UCPro.my is the rebranded Blueserver. Previously, Blueserver is one of the most popular private server for Warcraft III. Most of the players there play DotA, the most popular custom map for Warcraft III. Before this you need a Streamyx e-mail or 99 forum post to register for an UCPro account. Now, you can easily register for UCPro account easily, for free!
UCPro emulates the Battle.net server. The server software behind this is PvPGN, a bnetd based gaming network server emulation project. It currently supports all Battle.net games (such as StarCraft, Diablo II, and Warcraft III), and most Westwood Online clients (Tiberian Sun, Red Alert 2, Yuri's Revenge). It gives you the power to run your own server, manage your own users, run your own tournaments, etc.
1. First, you need to download UCPlay client. UCPlay requires at least Microsoft .Net Framework 2.0 in order to run. Make sure you have Warcraft III version 1.22a in order to play in UCPro server. If your Warcraft III is still version 1.21, you can download the Warcraft Version Switcher v121 and v122a.
Are you looking for a tool to view and analyze your media files? Do you want to know the technical part of your media files? MediaInfo is a free and open source software that allows you to view the technical information of your media files. For example; you want to know what type of codec is being used by a video file and the video quality seems to be high even the file size is quite small. MediaInfo supplies technical and tag information about a video or audio file. MediaInfo provides general information for multimedia files like: title, author, director, album, track number, date, duration, etc. It also provides more specific information for audio files such as: codec, aspect, fps, bitrate and more, and information for video files such as: codec, sample rate, channels, language, bitrate and more.
MediaInfo can be considered as the alternative tool for GSpot Codec Information Appliance. MediaInfo is being actively developed. MediaInfo supports wide list of known containers, video and audio codecs such as:
- Video: MKV, OGM, AVI, DivX, WMV, QuickTime, Real, MPEG-1, MPEG-2, MPEG-4, DVD (VOB)… (Codecs: DivX, XviD, MSMPEG4, ASP, H.264, AVC…)
- Audio: OGG, MP3, WAV, RA, AC3, DTS, AAC, M4A, AU, AIFF…
- Subtitles: SRT, SSA, ASS, SAMI…
This information can be exported as text, CSV and HTML, or you can just simply copy the information from MediaInfo and save it elsewhere.
To use MediaInfo, just click and drag the files that you want to analyze into MediaInfo window.