Monthly Archives:
April 2009
Have you ever wonder why your hard disk space is being used up, and you are looking for a software to analyze what files are taking up your hard disk space. Try WinDirStat. WinDirStat is a free and open source tool that allows you to view disk usage statistics and analyze your hard drive space usage. WinDirStat is also small, it only take less than 800kb of space after it is installed on your system.
WinDirStat will visualize the files on your hard drive using colorful blocks. Each file is presented as a block. Blocks for larger files will be bigger than smaller files, so you can easily check what files are taking up your hard disk space. The files blocks are arranged according to the directories and subdirectories where they are stored. WinDirStat will also show you what types of files that occupy the most part of your hard disk space. Each file types are represented with a same color. When you select a directory or file in WinDirStat, the block that represent the directory or file will automatically highlighted for easy visual reference.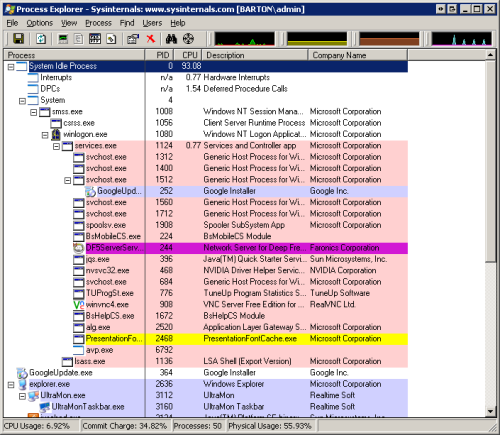 Process Explorer is a small powerful tool by Sysinternals that allows you to monitor the process that run on your Windows operating system. Process Explorer provides the same simple functionality like Windows Task Manager such as CPU and memory usage of a process or killing an application. What makes Process Explorer a powerful tool is it also provides some advanced functionality compared with Windows Task Manager.
You can use Process Explorer as the Windows Task Manager replacement if your Task Manager is being disabled somehow (by virus, worm, etc). I personally use Process Explorer to help me detects and remove malicious processes. Process Explorer has the built in function to make Process Explorer replaces the default Windows Task Manager. Open Process Explorer, go to Options > Replace Task Manager (1).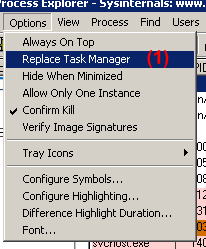 Process Explorer can display various information about a running process. For example, in TCP/IP tab of the process properties, we can know what ip the process is connected to. These informations can be useful if you are trying to diagnose an unknown process.
Quick tip. Have you ever accidentally close a program but then want to retrieve it? GoneIn60s is a small tool that allows you to recover any applications during the 60 seconds period after they being closed. GoneIn60s is a small tool, portable and it is written in AutoHotkey scripting language.
GoneIn60s works by keeping programs in the memory if they were closed for 60 seconds so you will have some time to recover it. If you don't recover the program within the 60 seconds period, then the program will be terminated. For example, you are using Microsoft Word and you closed the application. The application will be stored by GoneIn60s first in memory, and after 60 seconds, if you don't recover it, the save message will popped up to ask you if you want to save the document or not, or you can enable GoneIn60s to automatically kill the application without showing the save dialog. You can also change the timer how long for GoneIn60s to keep a closed program in memory before terminating it.

Some screen shots of GoneIn60s: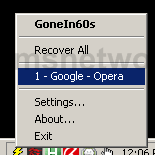 Quick Tip. I'm sure most of us use Facebook, and some of us might addicted to it! Have you ever wonder how to receive Facebook updates on your desktop and use Facebook chat without using the need to run a web browser? Introducing Digsby, an awesome multiprotocol instant messaging application. I've mentioned about Digsby in my previous post.
Digsby supports many IM protocol and social networking sites including Windows Live Messenger, AIM, ICQ, Jabber, Google Talk, Yahoo, LinkedIn, MySpace, Twitter and Facebook. Digsby supports receiving Facebook updates and Facebook chat. With Digsby, you can receive Facebook updates and use Facebook chat to chat with your Facebook contacts without having to open a web browser.
Some screenshots of Digsby:

Your online Facebook contacts will appeared in Digsby with F icon.