Digsby Offline Installer?

Digsby is a multi-protocol instant messaging application. Ever since I installed it for the first time, Digsby has became my favourite IM application. Digsby is simple, fast and working! The latest version of Digsby came with Yahoo Messenger style installer, which is a downloader application that will download the Digsby installer from Digsby's server. The downloader installer will offer you to install a few trial software, but you can choose not to install them (and you should skip it!). In this post, I will show how to grab the offline installer so you can re-install Digsby later without the need to redownload the setup file every time you re-install Digsby.
NOTE: You don't actually have to follow the steps below. You can find the direct download link for Digsby offline installer at the bottom of this post.
1. First of all, you need to clear the temp (temporary files) folder. To go there, type %temp% in Run and press Enter. Make sure you delete as many files as you can. Don't worry, it is safe. There should be a few files that cannot be deleted, so we will leave them. Take note of the files and folders the in temp files so we can monitor for new folder later.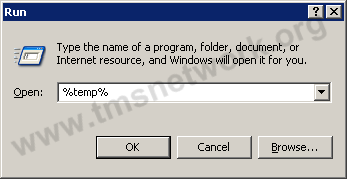 2. Run Digsby installer. Only press Accept (1) on the first screen so we can install Digsby only, not the offered trial software.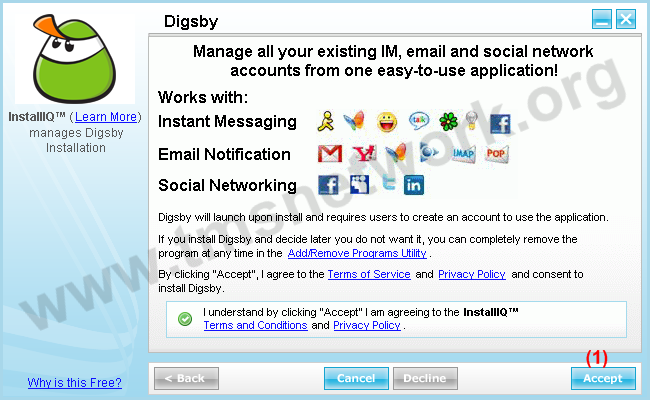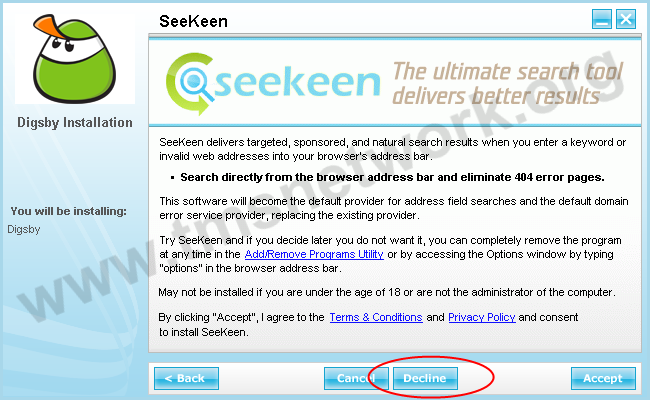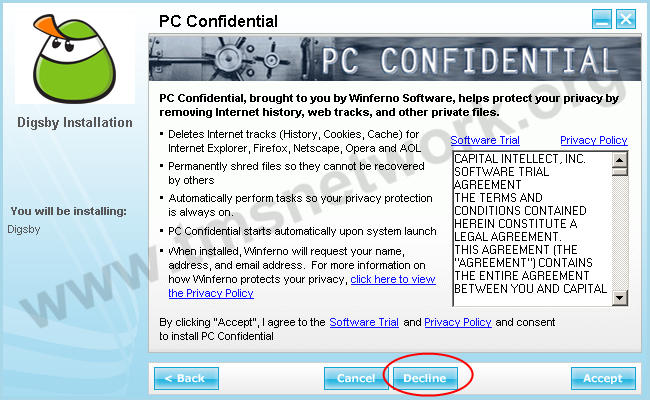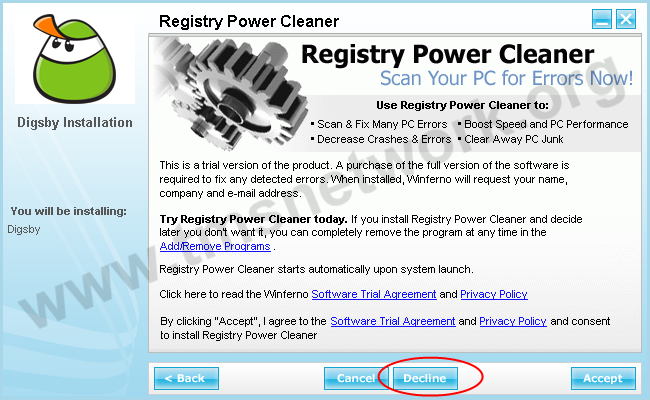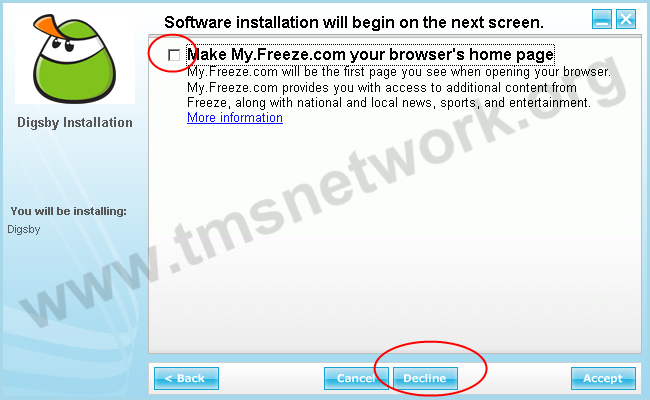 3. When Disby installer begin to download the setup file (2), look for a newly created folder in the temp folder. In my case, the folder name is pkg_0201a33c0 (3) and yours should be something like pkg_0201a33c0.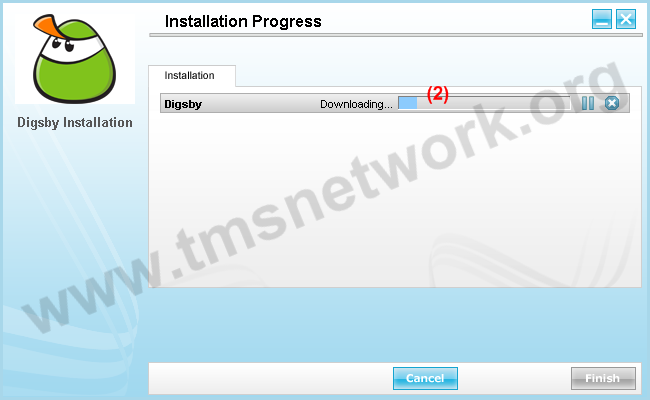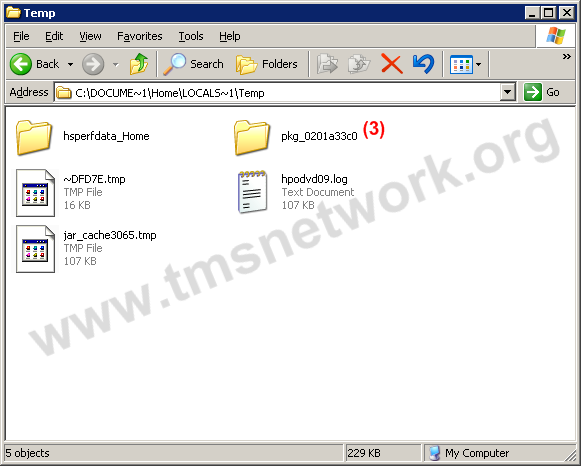 4. Open the folder and look for digsby_setup.exe (4).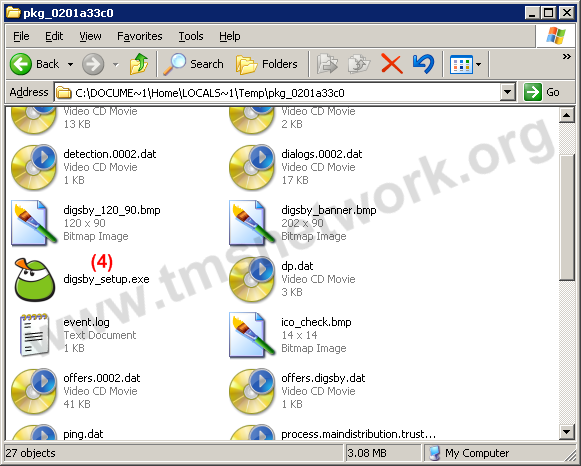 5. After Digsby installer finished downloading the setup file and the status has changed to installing (5), quicky copy digsby_setup.exe to a safe folder (Desktop for example). There you go, you can use it to re-install Digsby later.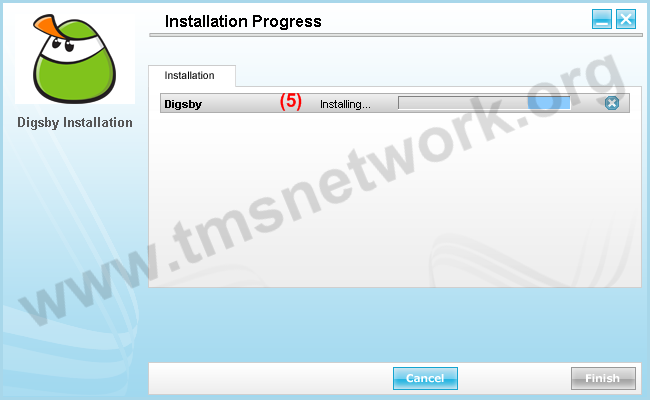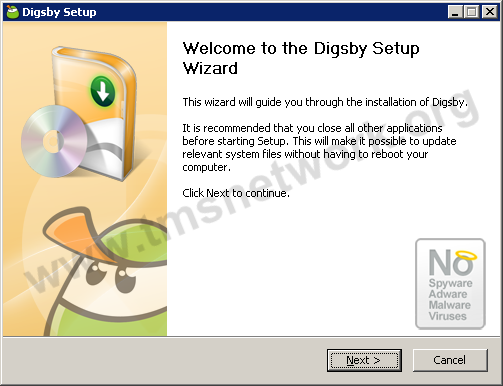 I understand that the developers are trying to generate a revenue from their software, and they do not put the ads in Digsby itself, just the installer. As long as the installer do not 'forcely' install any adware, it is ok with me because Digsby is a great application and I like it. If you are paranoid to run the installer, you can download the digsby_setup.exe that I've uploaded.
[Digsby] [Download: digsby_setup.exe (15.04MB)]
Update: Er.. ok.. You can skip all the steps above. Here the offline direct download link from Digsby's server.
[Download: digsby_setup.exe]