Home
» » Fast Text File Encryption
Fast Text File Encryption
28 June 2008
Posted by whiztech

under

Uncategorized
Steganos LockNote is a free and open source utility that offers you fast encryption for text files. Why encrypting text files is so important? Well.. if you are someone who like to store your passwords and other sensitive notes in a text file, of course you don't want that particular file to be in the wrong hands.
Encrypting is the best solution to prevent unauthorized individual from accessing the data in the text file. Why Steganos LockNote is the best software to do this job? First of all, the software doesn't requires any installation, which means it is portable. It is also small in size (312 KB for version 1.0.4).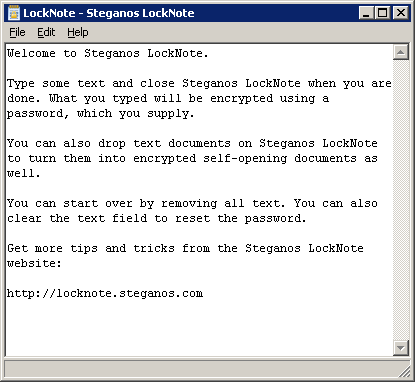 The software is very easy to use. Running the software will give you a notepad-like interface with a short instruction how to use the program. You can delete the instruction if you want. Just enter or paste any text just like you are using notepad. You can also click and drag any existing text files into LockNote window to open those files with LockNote.
When you want to save the text file, you will be prompt for password. The text file will be encrypted using modern AES 256bit encryption technology. The text file will be saved with .exe extension. The encrypted text file will be included in the .exe so you don't need to have 2 file (encrypted file and a decryptor) in order to perform decryption.
It is a great small program. Securing your sensitive text file is not going to be a hard work with LockNote.
[Steganos LockNote via Linux.com (er.. Windows article on Linux.com?)]
Tags: Download, Freeware, LockNote, Open Source, Tips