Home
» » First Look: AT&T Pogo Web Browser
First Look: AT&T Pogo Web Browser
29 June 2008
Posted by whiztech

under

Uncategorized
A few days ago I received the invitation to join the Project Pogo Limited Beta by the Pogo Development Team. AT&T Pogo is a Mozilla Firefox based web browser developed by AT&T and Vizible. The current version is based on Mozilla Firefox 2.0.0.14. Currently AT&T Pogo is in early limited beta stage. What is so unique about AT&T Pogo? While most of other web browsers will display the same flat 2D interface, AT&T Pogo will offers you a more visually appealing 3D interface. The future of web browsing is here! (Large images warning!)
AT&T Pogo System Requirement
The minimum system requirement can be considered as high compared with other browsers. According to its website, you will need at least an Intel Pentium 4 or AMD Athlon XP with at least 1Ghz of speed, 1Gb of RAM, 128MB video RAM and DirectX 9.0c hardware compatible. Thats is for minimum requirement. The recommended minimum requirement to run the beta version of AT&T Pogo is 1.6Ghz or faster processor and 256MB of video RAM. Currently, AT&T Pogo is available for Windows XP and Windows Vista only. The system I use for the test is Windows Vista Ultimate x86 on Intel Core 2 Duo 1.66Ghz (T5500), 2 GB of RAM and 256MB of shared video RAM (onboard Intel 945 Express).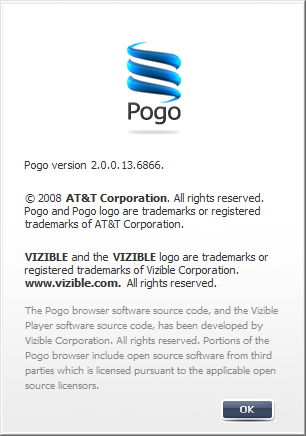 This version of AT&T Pogo is based on Firefox 2.0.0.14. You can check it by typing about:config in the address bar, and do a filter for useragent.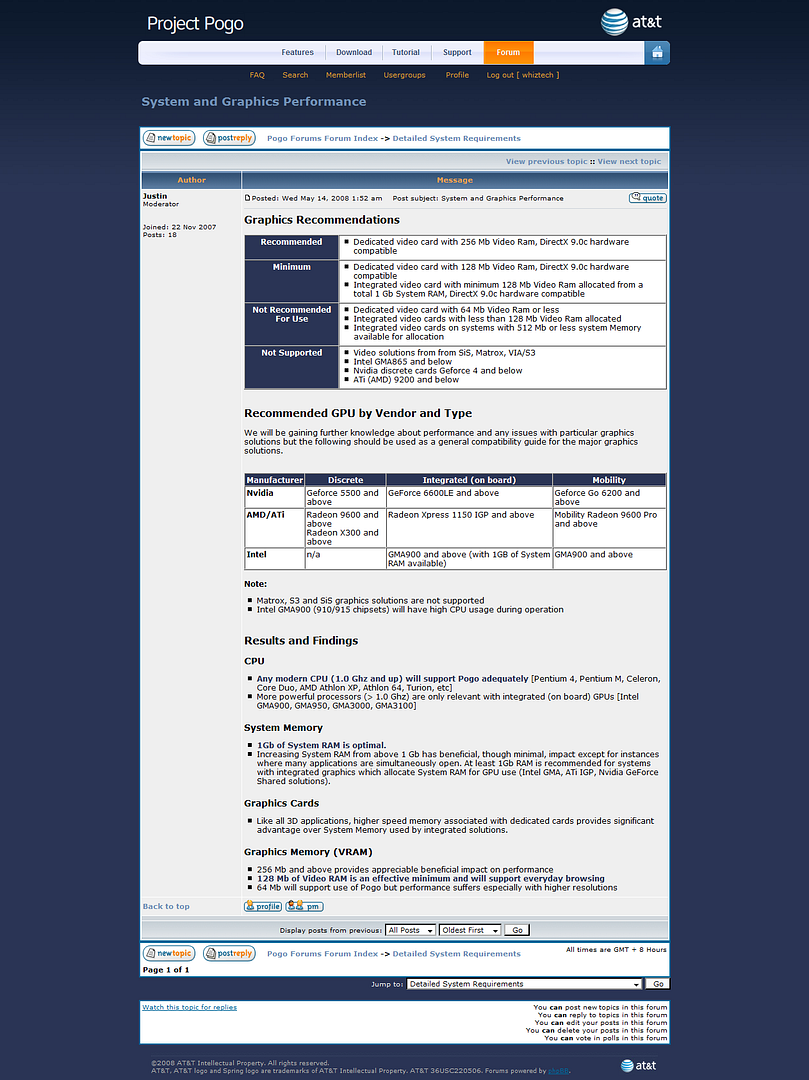 System requirements
Start up Page
You can set the start up page of AT&T Pogo to a quick dial looks in Opera. In AT&T Pogo, it is called Springboard. I don't know how much sites can you add to the Springboard, maybe unlimited. Ok, you can add up to 24 sites to the Springboard. Using this, you can add your favourite sites for quick access. Thumbnails of sites will be shown on Springboard.
Tabs
Tabs are called as Cells in AT&T Pogo. Cells are displayed in PogoDock at the bottom of Pogo Browser. In the Cells, you will be shown small thumbnails of the websites that you opened.
Bookmarks
In AT&T Pogo, your bookmarks will be shown in an interactive way. You will be presented with 3D small windows in a circle of your bookmarks. Managing your bookmarks is pretty easy. Bookmarks folders in AT&T Pogo is known as Collection. Right clicking on the Collection window will give you the option to change the properties of the Collection window, viewing it or deleting it. Viewing a Collection window will give you a thumbnail preview of sites that grouped in that particular Collection. You can browse your bookmarks by using up/down arrows on the keyboard, or clicking the small arrow in the Collections window, or just by using the mouse wheel.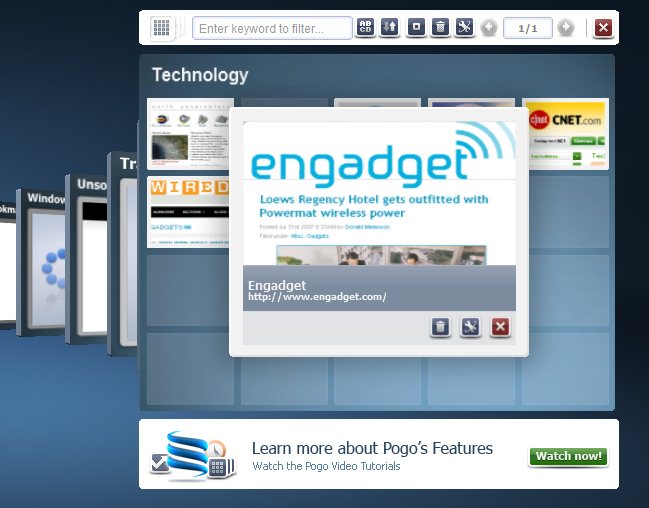 History
Your web browsing history are again presented in an interactive way. You are provided with a search box at the top of the history list which enables you to filter your history list easily.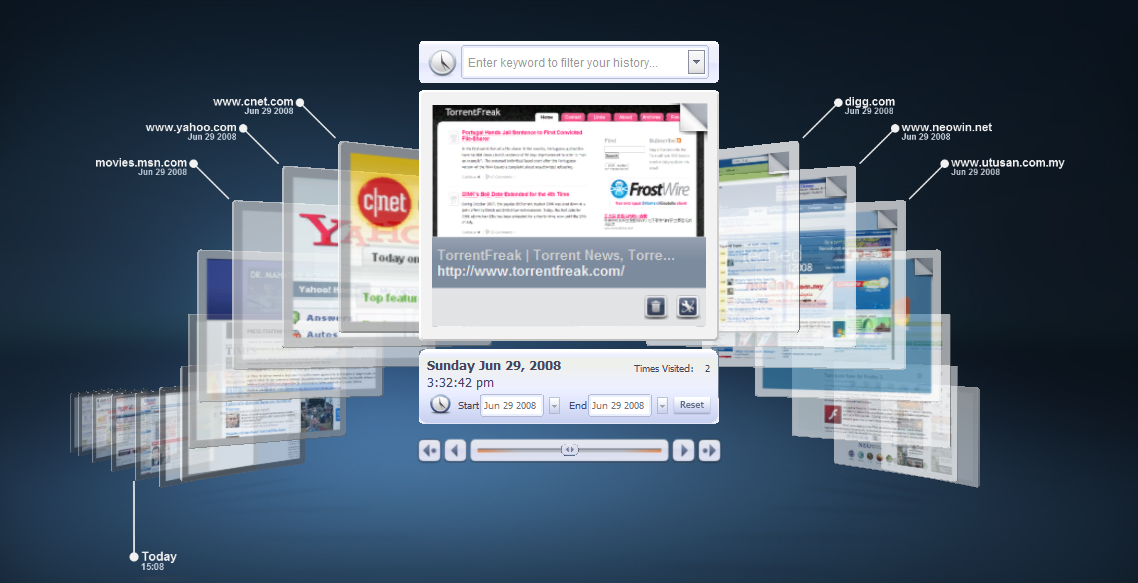 Searching
Searching using the built in search box in AT&T Pogo will brings you the search results from Pogosearch, which is powered by Google. Performing a slow double-click on the search Cell will show you a nice search history page.
Keyboard shortcuts are quite similar with Firefox. Ctrl+Enter, Shift+Enter and Ctrl+Shift+Enter will let you do the site address autocomplete. Ctrl+T will open a new Cell, and Ctrl+Tab and Ctrl+Shift+Tab will let you navigates through the Cells list.
Overall, as for now, I don't think I will use AT&T Pogo to replace my current web browser *yet*. Pogo is slower compared with other browsers. It also uses more system resources. After you use Pogo, you can see how the future web browser looks like. Considering it is still in early beta stage, you can see the awesomeness on how AT&T Pogo enhancing your browsing experience. I'm looking forward for Pogo to reach the stable release.
P/S:
Here are 2 invitation codes. Just go to AT&T Pogo website, fill the invitation code in "I've been Invited", and hit 'Join'. Please tell me if these codes are working or not so I can update the list.
z23744Dz
k27GSXqP
If you have the opportunity to use AT&T Pogo, let me know your experience!