Home
» » Google Chrome: Unable to Import Bookmarks & Settings from Mozilla Firefox
Google Chrome: Unable to Import Bookmarks & Settings from Mozilla Firefox
28 September 2008
Posted by whiztech

under

Uncategorized
If your Google Chrome do not show Mozilla Firefox in the 'Import Bookmarks and Settings' browser list, don't panic. Here is a simple trick to show back Mozilla Firefox in the browser bookmarks & settings import list.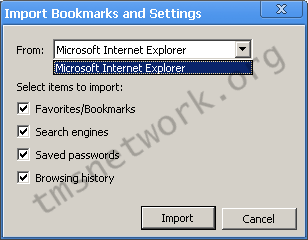 Open notepad, and paste the following registry script.
and save it as firefoxfix.reg (make sure you select 'Save as type' as the 'All Files'). Right click firefoxfix.reg, and choose Merge to merge it into the registry. Click Yes if a warning shown. Mozilla Firefox should be back on the list in the 'Import Bookmarks & Settings' dialog.
As far as I know, this problem occurred if you are using Mozilla Firefox version that undetectable by Google Chrome such as Mozilla Firefox "Shiretoko" 3.1 alpha.
Tags: Firefox, Google Chrome, Mozilla, Tips