HandyCafe – Internet Cafe Software: Block HandyCafe Popup
HandyCafe is one of the best and free internet cafe software. HandyCafe has a free version, and the free version will show advertisements and popup ads when logged in on the client side. These advertisements and popup ads however will not show if the HandyCafe client did cannot connect to the internet. We can block the ads by blocking the HandyCafe client from connecting to the internet. The 2 address that need to be blocked in order to prevent HandyCafe client from showing ads are ad.handycafe.com and search.handycafe.com.
There are a few way you can block the client:
1. If you have a high end router and has the option to block websites, you can block the addresses from your router.
2. If your internet cafe is using Windows Internet Connection Sharing, you can block the addresses from the server.
3. Of course, you can block the addresses on each system that run HandyCafe client. This method don't work. I think HandyCafe will automatically remove the handycafe.com URL from the hosts file.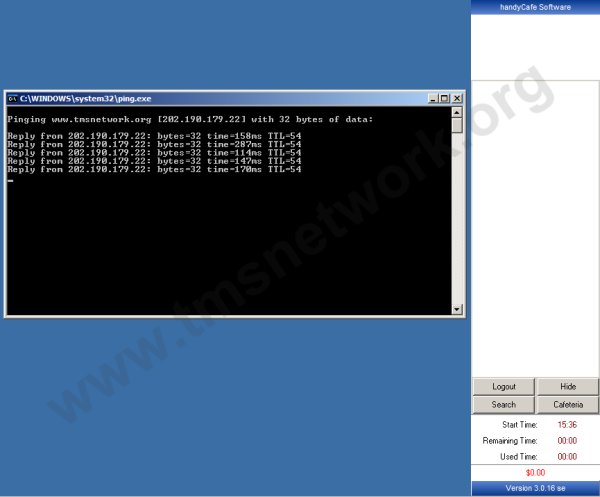 HandyCafe Client with advertisement blocked.
Below, I will show you how to block the addresses by using hosts file. You can use this method on the server that run Windows Internet Connection Sharing or on each PC that run HandyCafe client.
1. Go to C:\Windows\System32\drivers\etc. There should be afile named hosts. Check the properties of the file, if the hosts file is read only, remove the read only attribute.
2. Open Notepad. Click and drag the hosts file into notepad window.
3. Put the entry below on the last line of the hosts file:
127.0.0.1 ad.handycafe.com
127.0.0.1 search.handycafe.com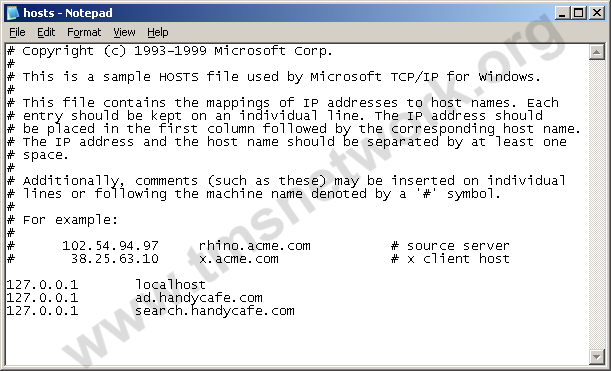 4. Save, and restart your system.
Hope this post is usefull for you. Do you know any other free internet cafe software solution other than HandyCafe and Cybera ?