How to Recover Accidentally Closed Applications
Quick tip. Have you ever accidentally close a program but then want to retrieve it? GoneIn60s is a small tool that allows you to recover any applications during the 60 seconds period after they being closed. GoneIn60s is a small tool, portable and it is written in AutoHotkey scripting language.
GoneIn60s works by keeping programs in the memory if they were closed for 60 seconds so you will have some time to recover it. If you don't recover the program within the 60 seconds period, then the program will be terminated. For example, you are using Microsoft Word and you closed the application. The application will be stored by GoneIn60s first in memory, and after 60 seconds, if you don't recover it, the save message will popped up to ask you if you want to save the document or not, or you can enable GoneIn60s to automatically kill the application without showing the save dialog. You can also change the timer how long for GoneIn60s to keep a closed program in memory before terminating it.

Some screen shots of GoneIn60s: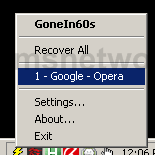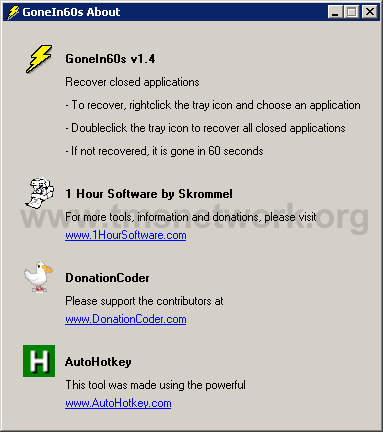 GoneIn60s is freeware and available for Windows.
[Download: GoneIn60s] [Via: Elite Freeware]