Home
»
Uncategorized
» My Best Personal Thunder/Xunlei Setting to Optimize BitTorrent Download
My Best Personal Thunder/Xunlei Setting to Optimize BitTorrent Download
In my previous post, Thunder BitTorrent Client is one of the bittorrent client that can be used to bypass TMNet traffic shaping. Thunder/Xunlei is actually a download manager and it supports downloads from download manager with support for HTTP, FTP, MMS, RTSP, bittorrent, and EMULE. The main reason for me (and I'm sure most of us) use Thunder is for bittorrent download. After playing with the configuration, below is my personal best configuration for Thunder/Xunlei to optimize the download speed. You can use it if you want, and feel free to tweak it according to your needs. I use this setting and it works perfectly with Thunder Portable and Thunder Mod by HeHeHunter. If you want to follow my configuration, you can use the default value for the part I did not mention.
a. Run Thunder and navigates to Tools > Options.
b. Click 'Connection'.
(1) Retry delay: set to 1
(2) Max no. of active task: set this value to anything you want, I recommend not more than 10.
(3) Unselect Max no. of Retries.
(4) Max global connection: 250-500, depends on your system and internet specification. High end system and faster internet can set more max global connection. My maximum download speed is 1.5MBps, 500 max connections is optimal for me.
(5) Limit Upload Speed: Use 80% of your maximum upload speed. 30kbps is suitable for Streamyx home user with maximum upload speed of 384KBps.
(6) Unselect Overwrite above settings if speed to slow.
c. Click 'Monitor' section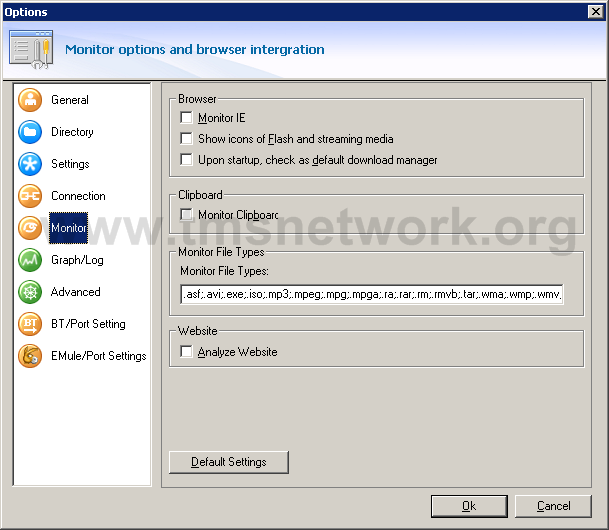 Unselect all the options in 'Monitor' section. The main reason we use Thunder is for bittorrent download, so we will disable the unnecessary features.
d. Click 'BT/Port Setting'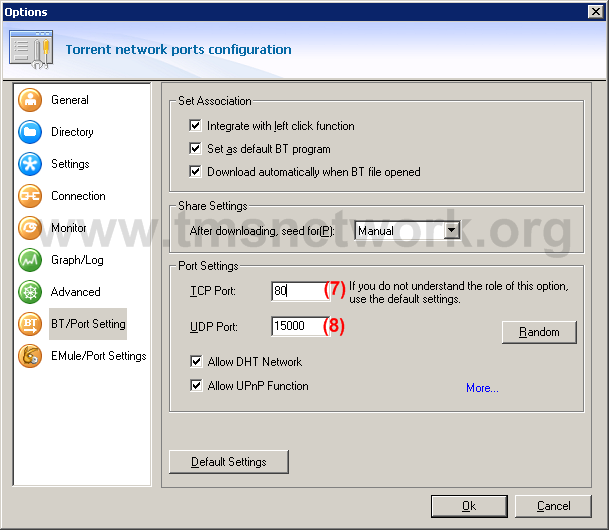 (7) For TCP port, use any HTTP port. By default, it is 80. If you cannot use port 80 you can use 1080 or 8080.
(8) For UDP port, you can use the default value.
I hope you will find this post helpful…