You are browsing YouTube and you've found nice video. You want to save the video so you can view it offline. In my previous post, I've shown you one method on how to download flash video from websites using Mozilla Firefox and DownloadHelper. In this post, I will show you how to download most of the media (audio and video) from any websites, using any of your favourite web browser.
What you need is, Grab++. Grab++ is a small utility that will help you to capture audio and video files from most of all websites, and enables you to download them. Grab++ is integrated with OrbitDownloader, and it is free. Grab++ works by sniffing files that being downloaded by your browser for media. Below, I will show you how to download a video from Youtube with Opera, using Grab++.
1. Download and install OrbitDownloader. Run OrbirDownloader, go to Tools > Grab++ (1) to run Grab++.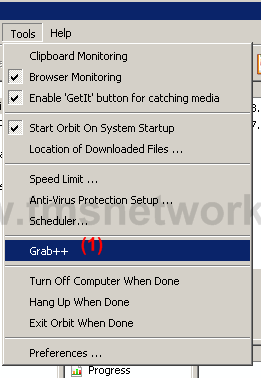 2. In Grab++ window, go to Action > Preferences (2). Go to Monitoring (3) tab, and choose the browser that you want Grab++ to capture the media. In this case, I will choose Opera. If your browser isn't listed, you can browse for the .exe file of your browser (4). Click OK to save the configuration. Don't close Grab++ yet.