Home
»
Uncategorized
» Receive Facebook Updates and Use Facebook Chat on Your Desktop Without Using a Web Browser
Receive Facebook Updates and Use Facebook Chat on Your Desktop Without Using a Web Browser
Quick Tip. I'm sure most of us use Facebook, and some of us might addicted to it! Have you ever wonder how to receive Facebook updates on your desktop and use Facebook chat without using the need to run a web browser? Introducing Digsby, an awesome multiprotocol instant messaging application. I've mentioned about Digsby in my previous post.
Digsby supports many IM protocol and social networking sites including Windows Live Messenger, AIM, ICQ, Jabber, Google Talk, Yahoo, LinkedIn, MySpace, Twitter and Facebook. Digsby supports receiving Facebook updates and Facebook chat. With Digsby, you can receive Facebook updates and use Facebook chat to chat with your Facebook contacts without having to open a web browser.
Some screenshots of Digsby:

Your online Facebook contacts will appeared in Digsby with F icon. You can chat with your Facebook contacts via Digsby without having to open a web browser.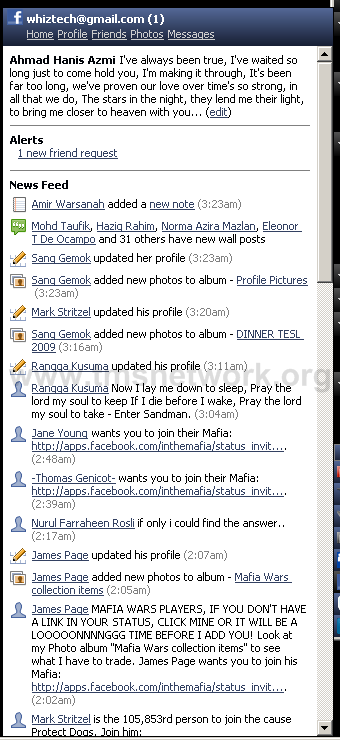 You can view the latest updates on Facebook using Digsby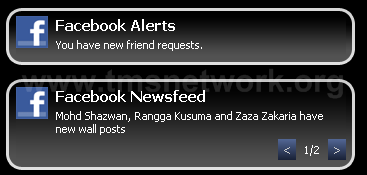 If you or your Facebook contacts have any status updates, you will be notified by Digsby with a small popup on right bottom corner of your Desktop.
How to login to Facebook in Digsby:
1. Run Digsby, login to your Digsby account.
2. Go to Tools > Preferences > Account.
3. Click Add IM Account > Facebook Chat (1). Then enter your Facebook username (your e-mail address) and your Facebook password. This will enable Digsby to login to your Facebook and use Facebook chat in Digsby.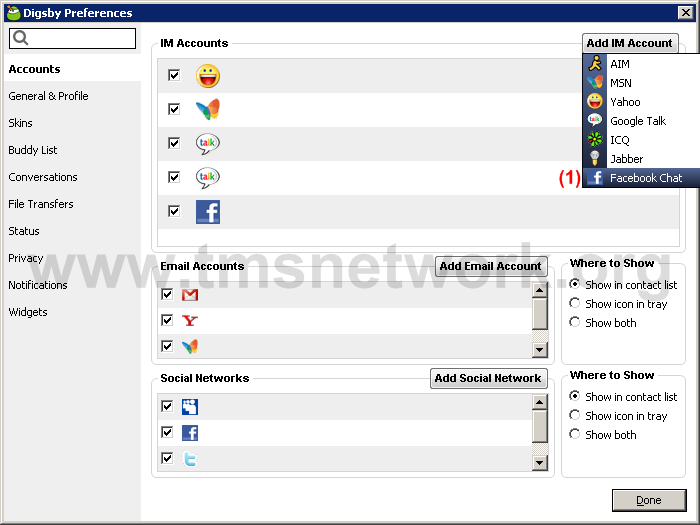 4. Next, click Add Social Network > Facebook (2). Again, enter your Facebook login info. This option will enable you to receive Facebook updates in Digsby.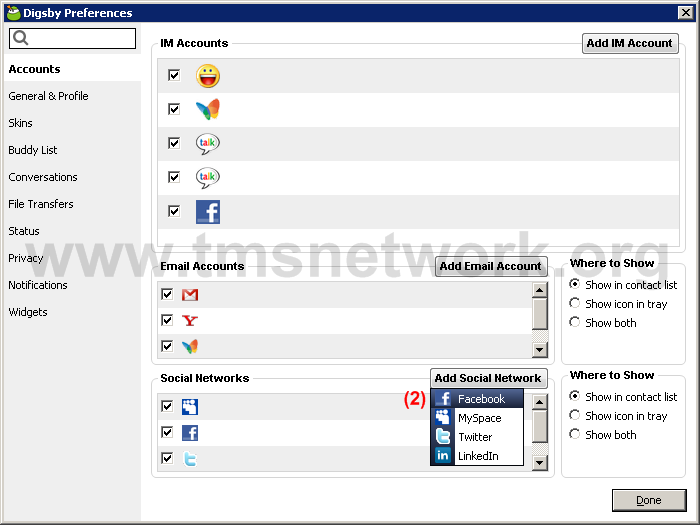 Digsby is freeware. Digsby is available for Windows and soon for Linux and Mac OSX. Do you use Digsby?
[Download: Digsby] [Digsby Offline Installer]