Home
»
Uncategorized
» View and Analyze Your Media Codec Information (Video/Audio) With MediaInfo
View and Analyze Your Media Codec Information (Video/Audio) With MediaInfo
Are you looking for a tool to view and analyze your media files? Do you want to know the technical part of your media files? MediaInfo is a free and open source software that allows you to view the technical information of your media files. For example; you want to know what type of codec is being used by a video file and the video quality seems to be high even the file size is quite small. MediaInfo supplies technical and tag information about a video or audio file. MediaInfo provides general information for multimedia files like: title, author, director, album, track number, date, duration, etc. It also provides more specific information for audio files such as: codec, aspect, fps, bitrate and more, and information for video files such as: codec, sample rate, channels, language, bitrate and more.
MediaInfo can be considered as the alternative tool for GSpot Codec Information Appliance. MediaInfo is being actively developed. MediaInfo supports wide list of known containers, video and audio codecs such as:
- Video: MKV, OGM, AVI, DivX, WMV, QuickTime, Real, MPEG-1, MPEG-2, MPEG-4, DVD (VOB)… (Codecs: DivX, XviD, MSMPEG4, ASP, H.264, AVC…)
- Audio: OGG, MP3, WAV, RA, AC3, DTS, AAC, M4A, AU, AIFF…
- Subtitles: SRT, SSA, ASS, SAMI…
This information can be exported as text, CSV and HTML, or you can just simply copy the information from MediaInfo and save it elsewhere.
To use MediaInfo, just click and drag the files that you want to analyze into MediaInfo window. You can select single or multiple files. Some screenshots of MediaInfo: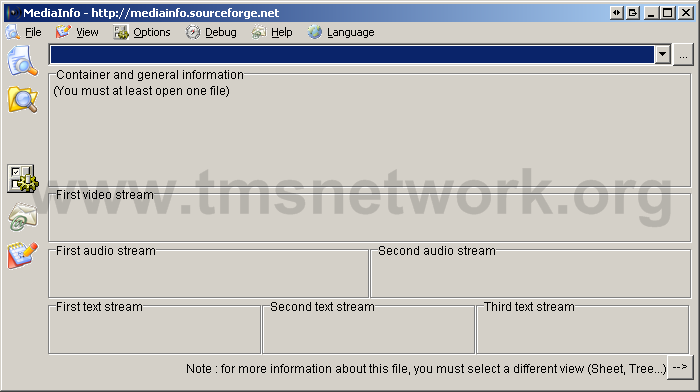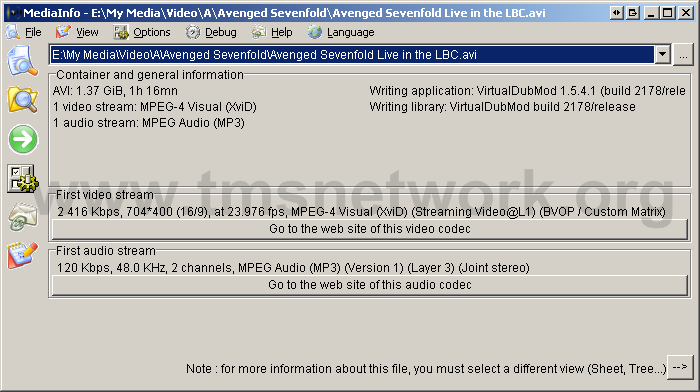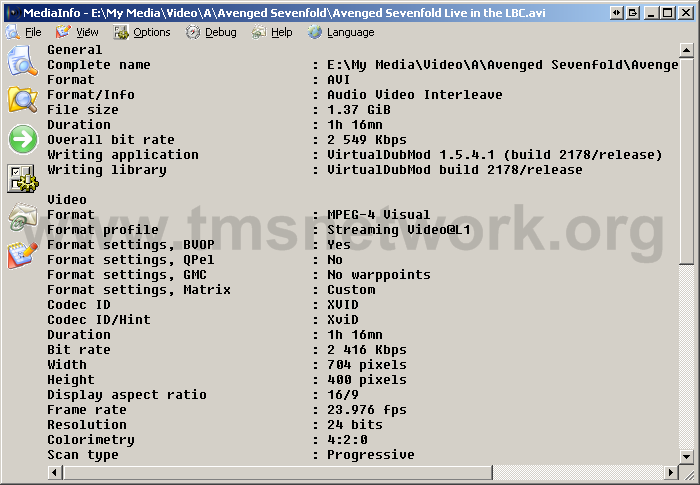 MediaInfo is free and open source. MediaInfo is available for Windows, MacOS X and Linux.
[Download: MediaInfo]
Tags: Freeware, MediaInfo, Open Source, Tips